At RENVIS we are very pleased to announce that our team is one of the 14 organizations that EUHubs4DATA selected for their 2nd Open Call! The title of RENVIS's experiment is A Data-Driven Decision Support System to Automate Innovation Scoring Process, with the acronym SOFIA 4.0. More specifically, an EUHubs4Data partner informed our team to submit its proposal. Next, we managed to advance to the next round of the EUHUBS4DATA call with 13 other teams from different European countries. Ultimately, in relation to the second open call of proposals for the European Federation of Data-Driven Innovation Hubs, the experiments typically started in May 2022.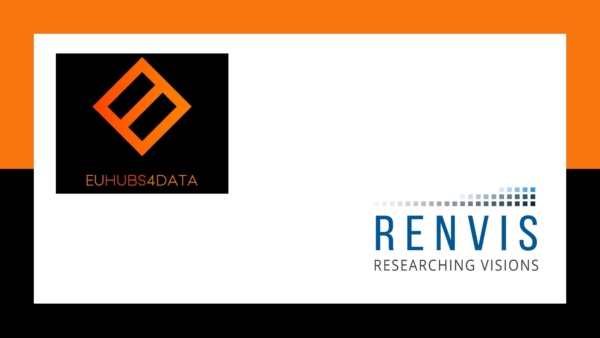 The EUHubs4Data Project
EUHubs4Data is a European Union-funded Innovation Action endeavor. It focuses on creating a European federation of data-driven Innovation Hubs as a reference for Big Data innovation and experimentation. Also, a Digital Innovation Hub (DIH), is an institution that underpins and helps businesses in terms of becoming more competitive by using digital technologies to optimize their:
business/production processes
products
services
What is more, such initiatives bring together a variety of stakeholders and services to support data-driven innovation at the local and regional levels. At the same time, they ensure that the industry has all it needs to make the transition to the much-discussed data-driven digitization. Thus, EUHubs4Data projects provide SMEs with access to a global catalog of data sources and data-driven solutions.
RENVIS and EUHUBS4DATA
First of all, the external Dataset that RENVIS utilizes in the experiment is the Dataset of SOFIA, as well as some company resources. Additionally, the dataset will include scorecard data based on Innovation Scoring Models, completed by companies and financial institutions. This data will include scores for a mix of innovation indicators/factors, such as:
RDP conversion
time-to-market
the percentage of innovation expenditure
All the above, will be correlated to the company and the company's team members' profiles. Also, there will be a use of this dataset in association with the EUHubs4Data "Bank Marketing" dataset.
A few words about SOFIA
Basically, SOFIA is a cutting-edge scoring system/application with a simple and intuitive user interface. First of all, SOFIA allows customization without unnecessary complexity. Secondly, SOFIA is also flexible and scalable to meet the demands of any company or organization. Next, it is adaptable enough to alter in terms of the model and the decision-making process. Furthermore, SOFIA offers secure access to users, depending on their access privileges and roles. Therefore, when compared to financial sector business suites, SOFIA's learning curve is short, and the system's implementation expenses remain low.
RENVIS and its people continue working on the project with the collaboration and the support of 3 European organizations: IMT, ITI & AIR4S.

Ultimately, the project will be completed by the beginning of 2023. Stay tuned!