Under the framework of the Teach for Future Program & the event of staff on Management Innovation & Network Collaboration, which was hosted by the American Farm School in Thessaloniki, Mr. Konstantinos Papapanagiotou, Managing Director of RENVIS, completed a Bitrix24 presentation, a valuable intranet for Innovation Management.
First of all, in terms of the event, Bitrix24 was primarily demonstrated as a valuable tool for Libraries, Archives, Museums, and Cultural Heritage Organizations. Subsequently, with the utilization of Bitrix24's strengths and features those kinds of organizations can get access to a user-friendly and trustworthy CRM for Project Management. Furthermore, Bitrix24 could also be a Team Collaboration and File Sharing platform for such organizations, among many other things.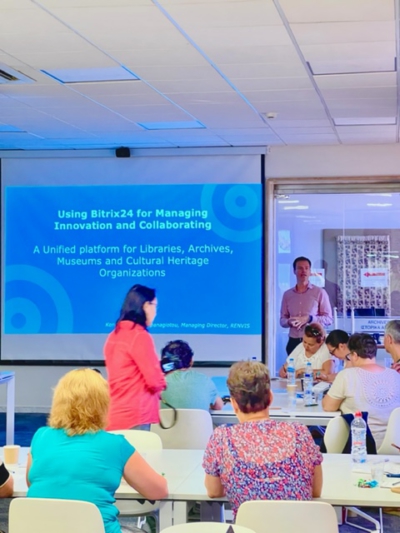 Key points of Bitrix24 presentation
Additionally, at our team's  Bitrix24 presentation at the American Farm School's event, Mr. Papanagiotou highlighted quite a few features and advantages of Bitrix24. Thus, the key points of this demonstration were related to features such as Project Management, CRM, HR & Automations, Collaboration, and Sites & Stores.
1) Kanban board
2) Gantt chart
3) a full set of Scrum tools to facilitate your project management.
Customer Relationship Management (CRM)
A modern and single platform to manage leads, engage with clients, and close deals faster than ever.
Regarding Hr & automations, you can manage your HR records, track employee work hours, collect work reports, and automate routine operations.
Everything your team needs to communicate and collaborate online.
Template-based website builder to help you create beautiful sites and SEO-ready online stores that sell.
Bitrix24 Online Meetings and Calendar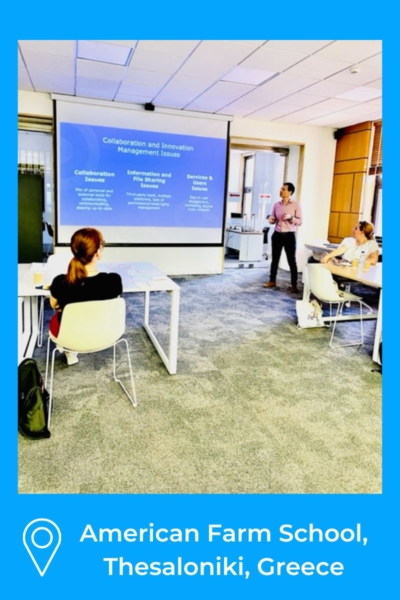 Moreover, during our Bitrix24 presentation at AFS, there were some interesting questions about Bitrix24's Online meetings features, as well as the functionality of Bitrix24 Calendar. In addition, a lot of event attendees were interested in those specific features and their advantages against the competition.
More specifically, regarding the Online Meetings, Bitrix24 provides its users with the ability to:
host up to 48 participants
have no time limit
invite external users to your call
perform call recording
get access to custom backgrounds and screen sharing
What is more, in terms of Bitrix24 Calendar, this specific intranet solution has made it easy for users to plan their day the way they want.
Next, with Bitrix24 Calendar you can have:
Personal, group, and company calendars
Public and private events
Event scheduler + invitations
Flexible access rights
Two-way sync with Outlook and Google Calendars