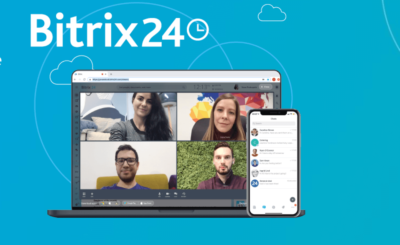 With COVID-19 spreading across the globe, businesses have been faced with the challenge of operating remotely. It's our biggest hope that this pandemic will be over soon, but for now, the best solution for most companies is switching to a remote working environment.
Bitrix wants to make your transition to remote work as quick and efficient as possible. This is why our free plan is now available to an unlimited number of users.
Bitrix is also significantly reducing prices for Bitrix24 Standard and Professional subscriptions until the end of March. Also, with the Bitrix24 Professional plan, your workers will be able to clock in and out remotely, provide you with daily, weekly, or monthly work reports, manage absences, use project templates, and initiate workflows remotely. In addition, advanced Bitrix24 plans also give you access to company structure, granular permission settings, enhanced security, and multiple ways to communicate – from videoconferencing to group chat to private workspaces.
Bitrix24 remote work special deal!
IMPORTANT. These discounted 12- and 24-month subscriptions are available to new and existing Bitrix24 clients.
Terms and conditions
This special deal is valid only from the 23rd of March 2020 to the 31st of March 2020. Furthermore, Bitrix24 Remote Work Special Deal covers all Cloud accounts, created in all domain zones (except RU, UA, KZ, and BY). This deal cannot be combined with other discounts or special offers, nor can it be extended beyond the original subscription period purchased with this discount. All future subscription renewals will be billed at the regular price. For cloud accounts with an active commercial subscription, a new subscription (Remote Work Special Deal) goes with the existing subscription. Finally, the end date will be updated within 3 business days after the special deal end date.
Stay safe and #stayathome!
Contact us:
RENVIS – Bitrix24 Gold Partner, 10 Ioanni Pasalidi Str., 54453, Thessaloniki, Greece, info@renvis.gr, +30 231 118 0008