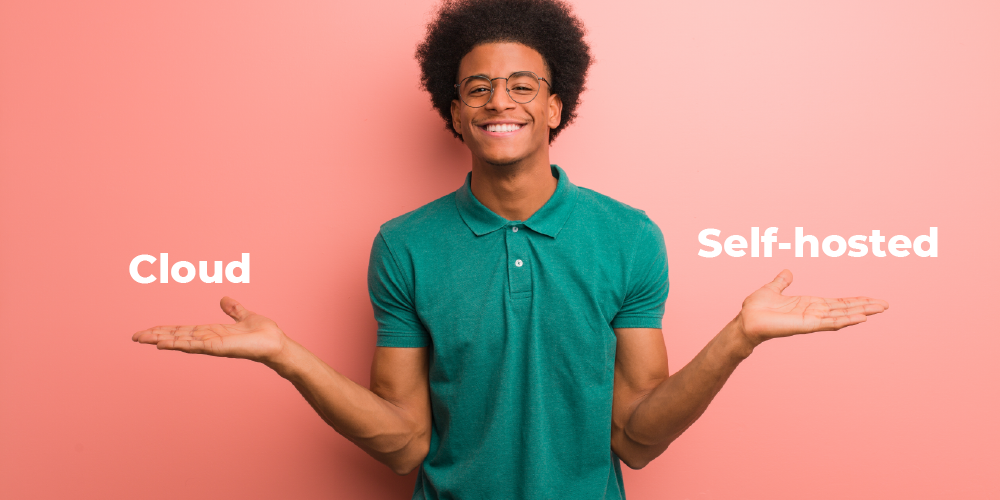 Bitrix24 versions
Bitrix24 Cloud version
Cloud technologies are very popular at the moment, they provide flexible data management, and 24/7 access from anywhere where you can get connected to the Internet. Among Bitrix24 versions an optimal solution, in case you have 1-100 employees is the Cloud one. Selected commercial subscriptions provide an unlimited number of user accounts for both the intranet (employees and management) and the extranet (partners and clients). If you eventually need a higher level of product customization, corporate branding and/or integration with other enterprise software, you can migrate your Bitrix24 Cloud account to the Self-Hosted version at any point.
Bitrix24 Self-hosted version
There are several instances when on premise Bitrix24 versions have to be used instead of cloud – when law requires that data has to be stored in a specific location, when you need source code access, when you need Bitrix24 tools that aren't available in cloud or when you don't want to use cloud services due to internal policies. Feature-wise, the Self-hosted version includes more tools and modules compared to the Cloud version. 
Unlike the Cloud version, Bitrix24 Self-hosted version is fully customizable (in the front-end of the product you can change logo, color scheme, layout, menu structure, page content, add or remove gadgets, modify CRM menu and fields, etc.). The Self-hosted version can be hosted on a remote web server of your choice, or deployed on a local network (even with no or limited access to the Internet).

Bitrix24 Self-hosted version is a PHP based product. If compatible, you can integrate 3rd party add-ons, gadgets and modules. AD / LDAP integration is also supported. The full source code availability of the Self-hosted version adds up to more customization flexibility and integration options.
The top edition of the Self-hosted version also features special modules, such as Web Cluster (helps you balance server load and provides additional scalability tools), and Multi Department feature (allows for creating multiple intranets within a single intranet; usually required by companies having a number of subsidiaries or branches that need individual Activity Streams and Department structures). 

Note: Bitrix24 Self-hosted version is sold as a lifetime license (one-time fee). Each commercial license key of the Self-hosted version comes with a free 1-year subscription for premium technical support and product updates. After the first year subscription comes to an end, you may wish to renew your subscription for another year (however, this is not mandatory).

Both versions have their benefits and trade-offs associated with deployment and maintenance. Below, please find a quick overview of core differences between the Cloud and Self-hosted product versions:
Bitrix24 versions: Pricing & Licensing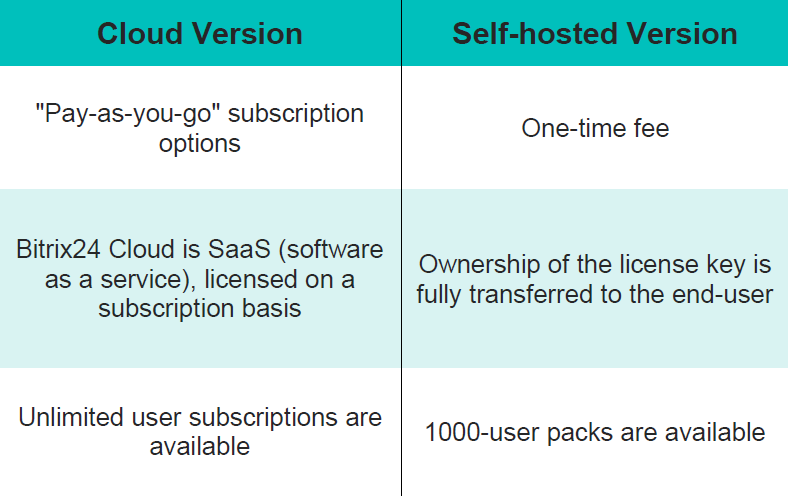 Bitrix24 versions: Installation & Deployment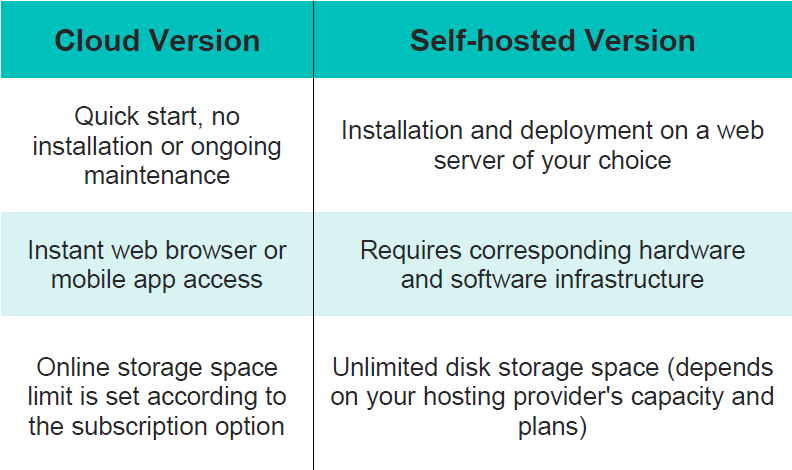 Product Customization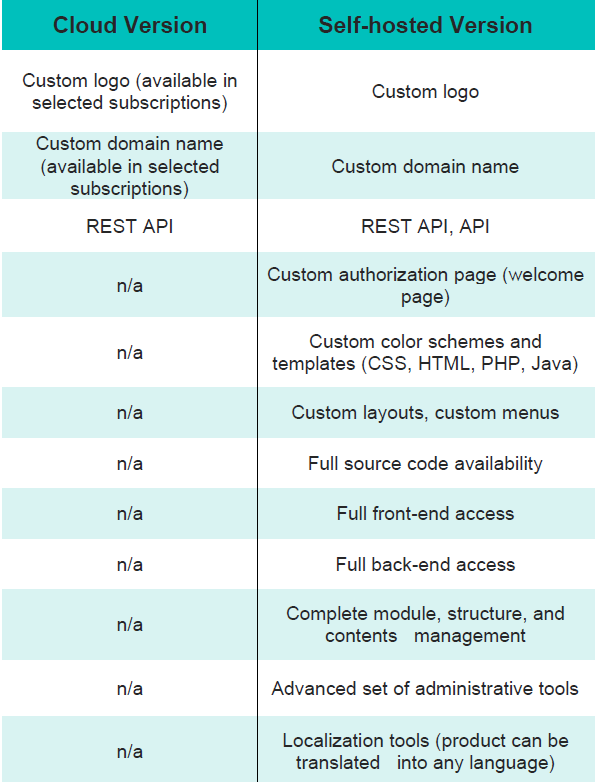 Enterprise Level Integration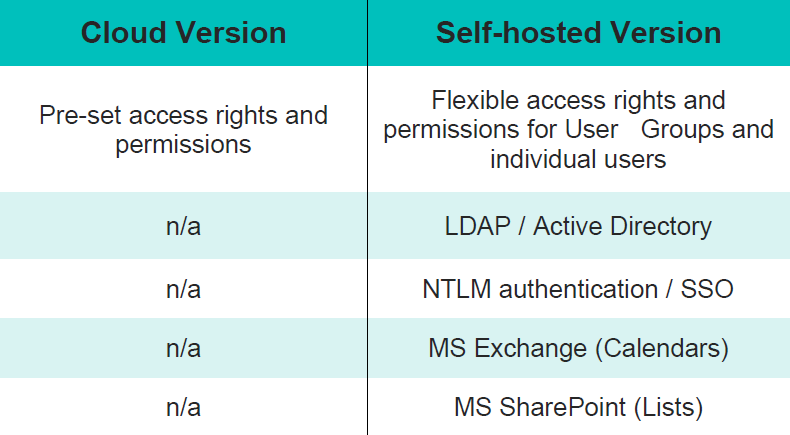 Back-Ups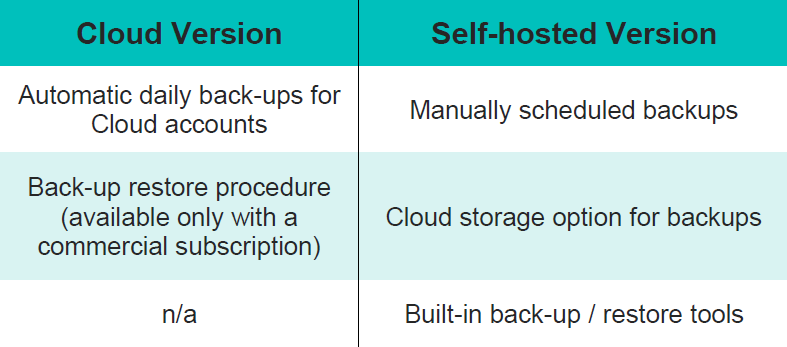 Security & Safety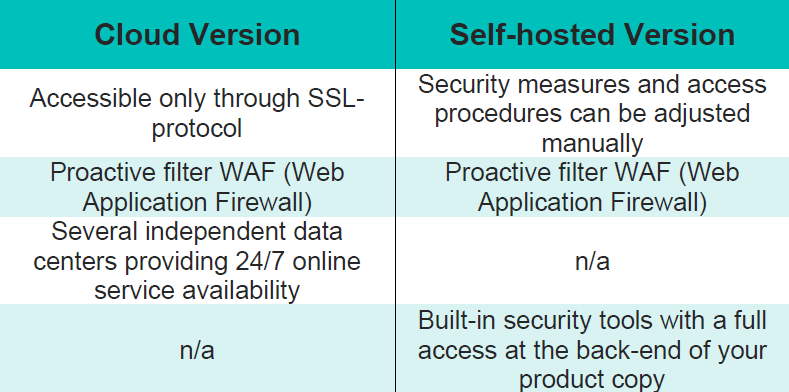 Product Features & Tools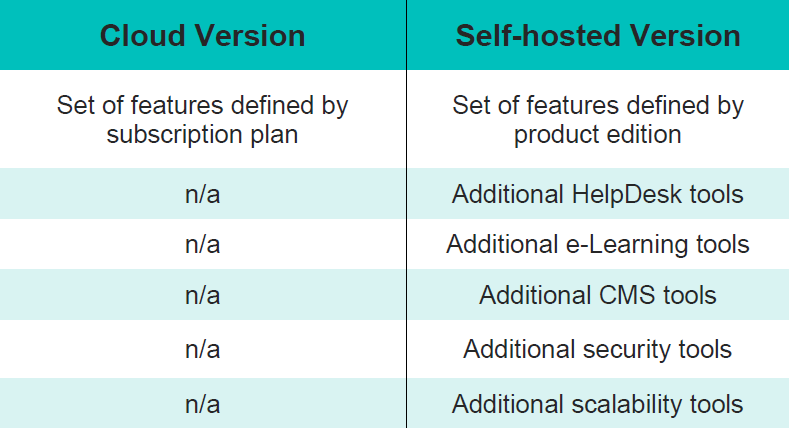 Mobile & Desktop Apps

Bitrix24 Cloud and Self-hosted versions are priced and licensed using different models, hence each product version is associated with different costs. Here's how those costs are considered from the point of view of the end-user:
Costs associated with Bitrix24 Cloud version:
• Basic hardware assets (workstation / laptop / mobile device that can provide access to the Web)
• Internet access (various options provided by ISPs or mobile carriers)
• Monthly (semiannual or annual) fees for a Bitrix24 subscription option
• Additional training and maintenance may be involved (usually paid services provided by a Bitrix Partner)

Costs associated with Bitrix24 Self-hosted version:
• Hardware and software for local networks (ranges from $1,490 and up)
• Hosting services for remote installation
• Commercial license key for a Bitrix24 Self-hosted version + additional user licenses (if more than 25 users are required)
• Salary for outsourced or in-house IT-staff for project implementation and maintenance (depends on many factors; can be a one-time payment for a turn-key intranet solution developed by a Bitrix Partner, or can involve hourly payments for the services provided by IT-specialists).
Contact us:
RENVIS – Bitrix24 Gold Partner, 10 Ioanni Pasalidi Str., 54453, Thessaloniki, Greece, info@renvis.gr, +30 231 118 0008