Reliable and secure content collaboration is extremely vital for the day-to-day operations of most organizations globally. With Amazon WorkDocks the user can have access not only to a secure content collaboration but also to a perfectly controlled storage, as well as a teamwork business solution. What is more, with the WorkDocks service of AWS, you can simply create, modify, and share documents faster than ever before. In addition, due to the fact that the service is hosted centrally on AWS, the user can access it from anywhere and on any device.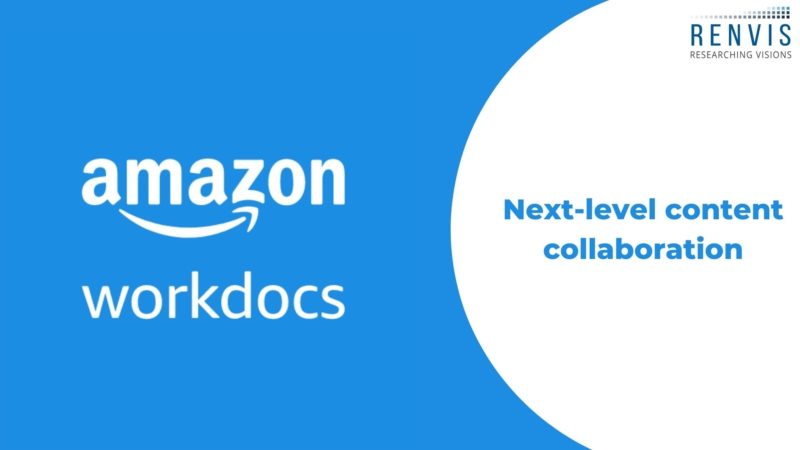 Furthermore, a content collaboration such as Amazon WorkDocs makes communication with others simpler than ever, allowing the user to:
effortlessly share content
provide detailed feedback
change documents collaboratively
Additionally, the Amazon WorkDocs allow you to interact with your existing systems and provide a robust API for creating your own content-rich applications. Ultimately, keep in mind that your content is protected on the AWS cloud, the world's largest cloud infrastructure. 
The main features of Amazon's content collaboration
Secure Storage & Sharing
Content storage
Firstly, Amazon WorkDocs enables the user to store nearly any kind of file in the cloud. Moreover, every single user has 1 TB of storage space in their account by default. Subsequently, the administrators can limit the amount of storage available to individual users and purchase more storage on a pay-as-you-go basis. Finally, there are no restrictions on the quantity of additional data or documents you can save.
Unlimited versioning
Secondly, with Amazon WorkDocks unlimited versioning, the users are able to oversee the prior versions of their documents on demand.
Searching
Furthermore, Amazon WorkDocs Smart Search makes searching much easier. More specifically, it accelerates content searches so you can spend more time in developing, revising, and sharing files with coworkers. Lastly, Amazon WorkDocks allow the user to search through document content, comments, and labels they are looking for. All the above, with the aid of powerful filters within the AWS database.
File management
In addition, the users can manage who has access to, comments on, and downloads or prints docks. Also, the users can lock items to perform any changes, as well as to ensure that their adjustments are not overwritten by other authors.
Encryption
Furthermore, with such a content collaboration, the users' docks are protected in transit and at rest. Moreover, Amazon WorkDocs, implement high data security standards and help its users in meeting legal and legislative requirements.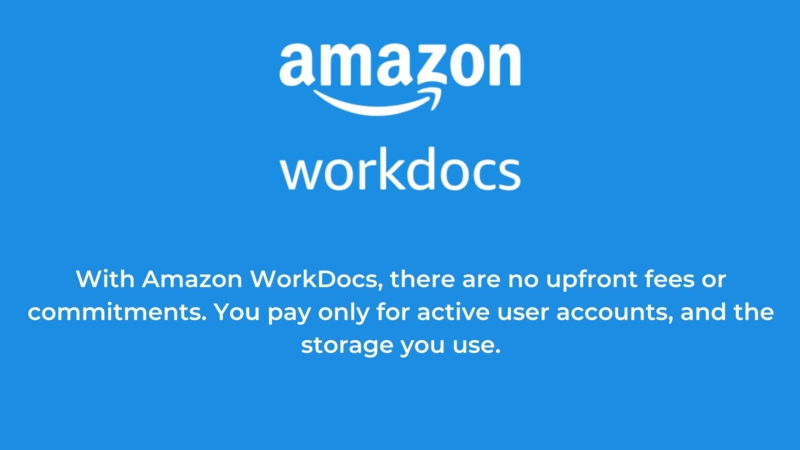 WorkDocs Drive
Now regarding the Amazon WorkDocs Drive, it is a web app that enables the user to adapt to the working environment of a Windows File Explorer or Mac Finder. Most importantly, all the above are available in an extremely user-friendly content creation service. Also, with Amazon WorkDocs Drive, all the users' documents are accessible from their devices without consuming valuable disk space on your PC or Mac. Ultimately, the users may choose to work with Amazon WorkDocs Drive as their main user drive.
Collaboration
With Amazon WorkDocs the user, you can write private comments, format comment text, resolve comments, and respond to comments in a threaded conversation. Moreover, in relation to the notifications, the user can notify any comments by tagging them with @username.
Editing
Amazon WorkDocs Companion provide users with access to document editing, directly in Microsoft Office. Furthermore, it includes a browser extension that enables the user to edit Microsoft Office,.pdf, and.txt files.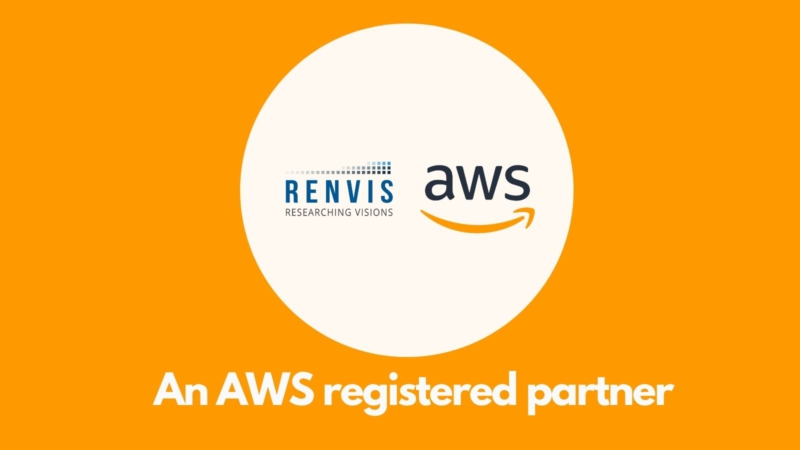 Regarding administrators
Consequently, in relation to the compliance, keep in mind that Amazon WorkDocs:
is HIPAA, PCI DSS compliant
meets ISO compliance requirements
Additionally, Amazon WorkDocs helps the user in meeting regulatory and compliance standards, that are related to file management and collaboration. Moreover, the users can have the opportunity to work on documents that include sensitive financial and medical data. Finally, regarding information security, Amazon WorkDocs also has ISO 9001, 27001, 27107, and 27018 certifications.
About Pricing
With Amazon WorkDocks content collaboration there are no upfront costs or additional commitments. On the contrary, the users pay for storage that they utilize as well as for all the accounts that they actively use.
Amazon WorkDocs costs $5 per user per month in most locations and offers 1 TB of storage for each user. What is more, all potential clients can try Amazon WorkDocs as their content creation service for free for 30 days. Subsequently, in this 30-day free trial, the users have 1 TB of storage per user for up to 50 users.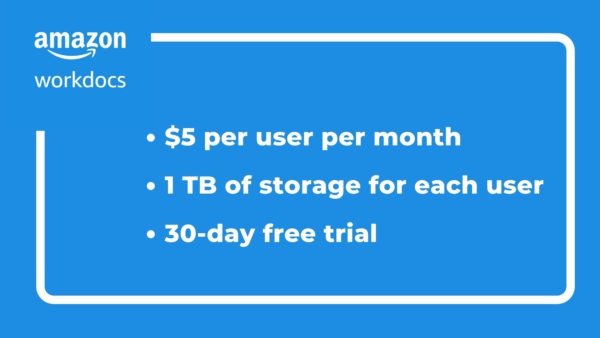 If you are interested in a content collaboration tool that can take your business operations to the next level, contact RENVIS, an AWS registered partner and learn more about Amazon WorkDocks. Stay tuned.